Grape Types
Click on the Grape name links for more in depth information
Click here for an in depth glossary of wine varieties
Understanding the types of grapes used in wine and their characteristics is vital to get a good understanding of wine. Apart from white and black grapes come from two main families.

Vitis Vinifera, which is prevalent in Europe, and

Vitis Labrusca, which is native to Canada and the eastern United States.

There are over 5,000 varieties of wine grapes. Below are some of the main types, if you click on the two links above you will get a much more in depth description of the links between grape varieties.
Auxerrois: Also known as Malbec or Cot, Auxerrois creates a neutral wine, fruity and soft. It is mainly grown in Luxembourg and Canada. In Alsace it is ofted blended with the Pinot Blanc grape.
Barbera: Barbera is a low-tannin grape known for its tarry flavor. It is very widely planted - in California it's about equal with Merlot grape vines, while in its home in Italy it has more acerage than Sangiovese and Nebbiolo. Piedmont is especially well known for this grape.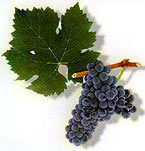 Cabernet Franc: A "parent" of the Cabernet Sauvignon grape. Cabernet Franc is used in Bordeaux - added in small amounts for flavor. It is also used in the Loire Valley, where it is called Breton. Other names include Bouchy, Bouchet, Gros Bouchet and Veron. Cabernet Franc is mostly used as an additive to blend with other grapes.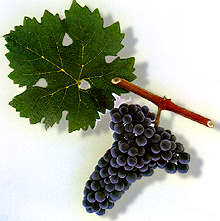 Cabernet Sauvignon: Cabernet Sauvignon wines are made from these grapes - on the vine they are red, small, and tough. The wines tend to taste like blackberries and cedar. Bordeaux uses the Cabernet Sauvignon grape, usually mixed in with Merlot. These grapes are also grown widely in California and Australia. The grape contains a lot of tannin, which leads to a good red wine when properly aged.
Chardonnay: This is a fresh, fruity grape grown in Burgundy, Champagne, California, Australia, and South Africa. Chardonnay wine tends to taste like fruits - melon, peach, etc. - and also many have an oaky flavor. It is one of the most popular and easiest to grow white grapes - it buds early, grows easily and has high ripeness levels.
Chenin Blanc: This grape makes a light, fruity wine. It is planted primarily in the US and in the Loire valley of France (well known in Vouvray wine). In South Africa this grape is referred to as Steen. Also known as White Pinot (Pinot Blanco), Chenin Blanc is able to age ten years or more.
Cinsaut: Also known (incorrectly) as Hermitage, this grape is mostly used for blending with other, stronger varieties. Cinsaut is the "parent" of pinotage. It is grown in Southern France, Lebanon, Australia and South Africa.
Colombard: These grapes end up making a wine with "tropical fruit" overtones, a light wine to go with seafood. It is used in South Africa and other countries. South Africa also uses Colombard to make brandy.
Cortese: The primary grape for Gavi wine, this grape ripens early and makes a neutral white wine. It is grown primarily in Piedmont, Italy.
Ehrenfelser: Created by crossing the Johannisberg Riesling grape and a Sylvaner grape clone, Ehrenfelser is extremely frost resistant. The wine it creates tastes a great deal like Riesling wine. Ehrenfelser is grown primarily in Canada.
Gamay: This is the grape famous used in Beaujolais Nouveau wine, from France. It is often drunk young in as in these light fruity reds. various types of gamay are used in the US often in Blands.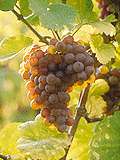 Gewurztraminer: The first part of the name literally means "spicey" in German. It has a floral taste with nutty tones. Gewurztraminer is also grown in Italy, California, Canada and Australia.
Grande Vidure: Also known as the Carmenére grape, this grape was best known for its use in Medoc wines. While some thought this grape had been destroyed by phylloxera, cuttings were taken to Chile in the mid-nineteenth century, where phylloxera has not arrived yet. The grape is known for problems with coloure and oidium, and produces low yields.
Grenache: Grenache is most often used for rose wine, and is widely planted in France, Spain and California. It is the second most planted grape in the world. Wines made with grenache tend to be sweet and fruity, with little tannin. "Grenache" refers to Grenache Noir, the red variety, but there is also a Grenache Blanc.
Kerner: A German cross of the Riesling grape and Black Hamburg (Trollinger), Kerner is resistant to frost and does well in cooler climates. It has a sweet taste, much like a Riesling wine. The grape does well in cooler areas like Michigan, US.
Lemberger: Also known as Blaufrankish and Limberger. Lemberger is a popular Austrian wine that is also planted heavily in Washington, US.
Maréchal Foch: Early ripening, this grape has very small berries in small clusters. The vines are hardy, though, and make a good range of red wines.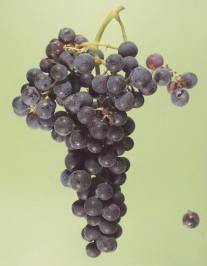 Merlot: This is an early ripening grape, with gentle flavors of cherry, honey, and sometimes mint. It has less tannin than some of its red cousins. Merlot wine is a major blending component of most Bordeaux wines. It's grown in France, Italy, Australia, and in the states - California, Washington, and Long Island, NY.
Muller-Thurgau: The grape most widely planted in Germany, Muller-Thurgau comes as a mix of riesling and sylvaner. This is also grown in Austria, New Zealand, and the northwest section of the US. It has a floral aroma.
Muscadet: Part of the confusing-Musc-series, Muscadet or Muscadekke is one of the white grapes grown in Bordeaux. It is not related to the Muscat grape, and does have a grapey-tasting flavor. This grape is well known for its use in the Tokay wine of Australia.
Muscadine: This is a Muscadinia grape which is a separate branch from normal vinifera grapes that most people know of. Grown almost primarily in southeastern US and in Mexico, the Muscadine is a large grape with a thick skin. Scuppernong is a type of muscadine grape. They are very hearty and grow in places that other grapes might not.
Muscat: This is a very grapey-tasting grape that doesn't ripen easily. There are various varieties of Muscat - Muscat Blanc, Moscato (Italy), Muscat of Alexandria, and Muscadel. Moscato is the grape used for Asti Spumanti, the sparkling wine from Italy.
Muskat Krymskii: This aromatic white wine is used in Bulgaria, the Ukraine and other eastern European countries. Other names include muskatel, misket or mishket. The wine tends to be wheat colored, and have a clean fruity bouquet.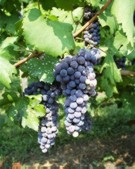 Nebbiolo: This is a late ripening grape that's known for being tannic, pruny, tarry and chocolaty. It is notoriously difficult to grow. Nebbiolo is grown in the Piedmont area of Italy (where it makes Barolo wine), Switzerland, California and Australia.
Optima: A German variety used to add sugar to other wines, this wine is not very palatable on its own.
Ortega: A cross between Muller Thurgau, Madeleine Angevine and Gewurtztraminer. This is very flavorful and has a mangoey taste to it. It is grown in Canada.
Petite Sirah: This is a dark, tannic, fruity grape. It sometimes has smoky or chocolaty tones to it. It should not be confused with Sirah/Shiraz grape, which is a completely different grape. It is popular in California where it often goes into "jug wines".
Pinot Blanc: This grape has a flavour very much like Chardonnay wine. It is grown in Alsace, Italy, and Austria (where it's known as Weissburgunder). It is a mutation of the Pinot Gris grape. It's used in many Californian sparkling wines.
Pinot Gris or Pinot grigio: This is a clone of Pinot Noir, grown in France, Germany, Austria and along the west coast of the US. It's also known as Rulander or Grauer Burgunder. It can be used to create both fine whites and roses.
Pinot Noir: These grapes are softer and earlier ripening than Cabernet grapes, and are very sensitive to conditions. Used often in red wines, they are also used (without skins) as a white ingredient in Champagne. Pinot Noir wine is made in Burgundy, and also Australia, California, Oregon, Italy and Germany.
Pinotage: Developed in the early 1900s and used primarly by South Africa, Pinotage is a mix between pinot noir and cinsaut. The grape makes a wine that is hearty, with a fruity and spice taste.
Riesling: Not just a dessert wine-grape, riesling can produce dry crisp and fruity wine as well honeyed, musky flavours in warmer climate or when left longer on the vine. Riesling wine is native to Germany, and is also used in France, Australia, California, and many other countries . The Finger Lakes region of New York are well known for their Rieslings. Riesling is also used in the creation of Ice Wines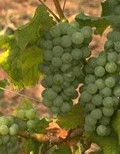 Sauvignon Blanc: This grape is grown primarily in California and France. It has a grassy flavor and makes a crisp, light wine.
Scheurebe: This is a mix between Sylvaner and Johannisberg Riesling. It is mostly planted in Germany and is used for aromatic white wines.
Semillon: This thin-skinned grape ripens early, and is used mostly in Bordeaux, France. It has a grassy, "figgy" flavor. It is also grown in Australia and California, and is often blended with Sauvignon Blanc.
Seyval: Seyval is an "East Coast US" wine, and is one of the most widely planted grapes east of the Rocky Mountains in the US. They have melony flavors, as well as grassy/hay overtones.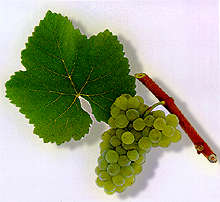 Sylvaner: Sylvaner was once the most widely planted grape of Alsace, France, but now only accounts for 15% (and dropping). It is also grown in Germany and Central Europe. The grape produces a pleasant, but bland, white wine. Flavors include light spice and floral ones.
Syrah/Shiraz: This grape is grown in France and California as Syrah wine, and in Australia as Shiraz. In France, it is associated with the Rhone Valley and Hermitage red wines. Syrah tends towards a minerally, blueberry, or sometimes spicy and peppery type of flavor. Petite Sirah is an entirely different grape.
Siegerrebe: Siegerrebe is a cross bewteen Gewurtztraminer and a normal table grape. It ripens very early, and has a high sugar content. Wines made with Siegerrebe have tastes of peach and honey.
Trebbiano:
Viognier: This rare varietal originated in Condrieu, on the northern Rhône. It is predominantly found in the Rhône valley and California, noted for spice, floral, citrus, apricot, apple and peach flavors. It typically produces medium bodied wines with relatively high acids and fruit. Viogner can produce fairly complex wines.
Vidal Blanc: Vidal is mostly grown in the northeast US, and is very hearty. It does well in late harvest sweet wines, as well as in icewines.

Zinfandel: Most Zinfandel grapes are grown in California, although they are thought to have originated in Southern Italy. The wines can be fruity or spicy, depending on age. The Zinfandel grape makes both Red Zinfandel (if the skins are left on) and White Zinfandel (if the skins are removed).