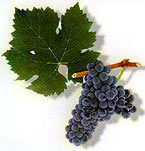 Breton and in large areas of southwest France where it is sometimes known as Bouchy or Bouchet. Other french synonym names are Carmenet, Gros Bouchet and Veron. In N.E Italy the variety is known as the Bordo.
Geography
Mainly found in Bordeaux, France. Other main producing countries include, Italy, USA, Australia and Eastern Europe.
Viticulture
As for Cabernet Sauvignon: Best in warm climates. If grown in hot conditions, the wine produced has a jammy, stewed flavour.
Varietal/Blend
Mainly used for blending with Cabernet Sauvignon and Malbec. At its best when blended.
Flavour & Character
Dominant raspberry flavour with hint of herbs.
Vinification
As for Cabernet Sauvignon: Fermented in stainless steel or oak. Fermentation temperature not critical because of robustness of grape. Matured in old or new oak.
Style
Good subtle colour, tannin and acidity.