My first experience of Singapore was in 2003 in the airport. For seven hours waiting in transit, and despite it s wonderful facilities, that was way too long.
Last year I decided to pay a visit to Singapore as part of an Asian trip taking in Koh Samui, Singapore, HongKong, and Bangkok.
Based in Chinatown, it was a wonderful experience, where I was to meet a remarkable Singaporean.
So, after constant e-mailing, mobile texting &. I decided that life s too short to be constantly sensible, hey, we're only this way once!
This time booking my flight and hotel on-line I was on my way!
To Singapore.
Merlion
As most of you may be aware I m not keen on British airports. Dismal places, with airport staff who generally treat you as if you re a pain in the bum.
And if you travel by coach as if I have done from Newport in South Wales, you begin to wonder why no-one has come up with the idea of giving passengers strong sedatives to knock them out throughout the journey!
So this time I avoided London, and travelled from Cardiff (Wales) Airport, - no coach, not so long to wait around.
And I was pleasantly surprised. OK, none of the grandeur of some of the larger airports, and the place looked rather tired .
However, after passing through customs (or is it Immigration?) there was obvious sign of dedicated improvement. And guess what, staff who smiled; and if they didn t have what you wanted, actually recommended other traders !!
The flight was with KLM via Amsterdam to Singapore.
From Cardiff to Amsterdam by CityHopper . Hmmmm ok
From Amsterdam to Singapore on a proper plane. Hmmmm ok.
But why did I get the feeling that I was being treated like a naughty schoolboy, to be tolerated.
However, it was economy, and I kept thinking of the smile that awaited me in Singapore.
About thirteen hours later there was the most beautiful smile to greet me at Singapore airport Benny.
Taxi straight to the hotel The Royal Peacock in Chinatown. www.royalpeacockhotel.com
I d stopped here a few months earlier, and it really is a most unpretentious, friendly place.
Excellent location for touring around.
Benny helped me settle in before he had to go to work at 'Tantric'.
I was tired, but restless.
A good shower, shave, and rest and out into Chinatown. This place is so vibrant, it forces life into your very being.
On my previous visit it struck me as a busy place, but with this being the lead up to Chinese New Year Wow !!
Into the Backstage Bar .
Full of atmosphere, and a great balcony overlooking the heaving crowds below.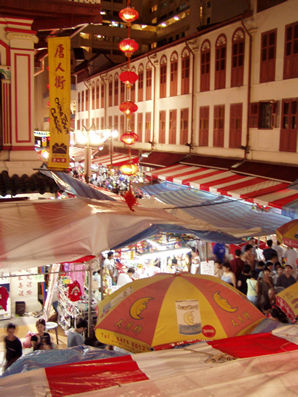 Soon I was to fall into a routine at night. Leave the hotel about 11pm Backstage Bar 95 , up over Ann Siang Hill to Caprice ; ending up at Tantric .
Tantric is based on minimalist Zen design, relaxing, with an enclosed outdoor courtyard.
And if you feel like dancing, then it s just over the road to Taboo . A very friendly dance club which seems not to have heard of the expression ageism (yes, even an old guy like me felt welcome!).
At this point I should say that alcohol is quite expensive by British standards.
But balance that out by the most incredible, and cheap, food that that can be found at the numerous and highly popular food halls such as Lau Pat Sat.
Here s where I discovered my love of Malay food when Benny took me one day to Warong M Nasir on Liang Seah St