Singapore. This small island nation on the tip of the Malaysian peninsula has an amazing blend of Chinese, Malay and Indian people.
Hence the ability to find such unique areas as Chinatown, Little India, Arab Street/Kampong Glam, and Katong.
Before this stay in Singapore I had imagined a place of skyscrapers with little green parkland; but surprisingly the main island of Singapore with over 58 surrounding little islands, covering about 250 square miles consists of forest reserves, marshes and many parks.
The name Singapore (or Singapura in Sanskrit) means Lion City. So called by a Sumatran prince in about 1299, who, while sheltering from a storm, thought he saw a lion there.
I won't go into too much detail; you can get that from a good tourist guide. My main centre was Chinatown, and as I have just mentioned there was such a beautiful blend of differing ethnic groups. So colourful.
To be able to walk down a street and witness changing style of dress and appearance was an enormous pleasure. To be able to experience different Faiths in a small area residing side by side in harmony was an eye-opener to a Westerner such as myself who was becoming weary of inter-faith tension at home.
The Sri Mariamman Hindu Temple at the top of Temple Street.
The ability to be able to walk at ease inside, not feeling at all self-conscious.
Observerving the people inside relaxing.
Just a short walk away I came across what was to become my favourite place. The Thian Hock Keng Temple (Temple of Heavenly Bliss) in Telok Ayer Street. Built about 1840, this Taoist Buddhist temple traces its history back to the first Chinese immigrants; built in honour of Ma Chu Poh, the Goddess of the Sea.
I was able find my way round these various Temples myself, being in close proximity to Chinatown. I am grateful to Benny for taking me to the Sultan Mosque on Arab Street.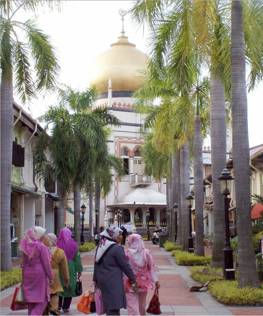 This is Singapore's largest Islamic shrine. Built in 1928 with the contributions of the Muslim community.
Walking around without feeling any paranoia, because youre in a strange city, helps to enjoy the environment more.

I understand that Singapore forbids any form of theatre, film, or publication that may be taken as offensive by any particular ethnic group. Being a multi-racial society I think this contributes to the harmony in which most people live.
When I visited the Esplanade, the performing arts centre, built at a cost of about 600 million Singapore dollars, with the aim of becoming one of Asias leading Arts Complex; there was an inspiring display commemorating Singapores diverse ethnicity.
This colourful display depicts the wonderful vibrancy that can be acquired from such a multi-cultural society.
With a great choice of restaurants in a small area Chinese, Indian, Malay - I dont think I went long without trying a different meal each day; although being British, of course, my first answer when asked what I wanted, was usually Sweet and Sour Chicken with rice.
With Bennys encouragement I felt confident in letting him decide in many instances what we ate. However I would have drawn the line at curried fish head and rice!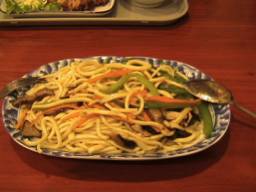 Although there are very smart restaurants in Singapore it was often more enjoyable to eat in one of the many side streets; sitting with the many, many, other customers just relaxing in the warm evening air.
And Ive already mentioned the Malay restaurant that Benny took me to.
Touching on the subject of the Arts we visited the Singapore Art Museum on Bras Basah Road. There was a display of work by the Columbian sculptor and painter Botero.
Its hard to describe his work, not wishing to copy any, in case of infringing copyright so lets just say they seemed to consist primarily of chubby people. And many of his bronzes were scattered around the Esplanade.
Also on display were some beautiful works of photography by Russel Wong; my favourite section being the photo shoots of sets and characters from films such as Crouching Tiger, Hidden Dragon Hero and House of Flying Daggers.
Of course in Singapore you are never far away from the shopping malls that typify Asia. A combination of stunning modernity, and local character.
I was delighted to see modern artwork being enjoyed by young children!
Yes, it can be very hot at times!!
For those addicted to retail therapy there is Orchard Road. This is a very long road of numerous shopping malls, specialist shops, restaurants and hotels..
My strongest memory is of the coffee shop that Benny took me to Coffee Bean at Ngee Ann City on Orchard Road. This was on the 5th floor overlooking the outside, the walls being made of re-enforced glass; and thats where we were sitting! Tight up against the Ôglass wall. Im afraid my nerves got the better of me (with certain parts of my anatomy shrinking) and I ended up facing inwards, my back to the glass wall.
Yet, after this experience, its surprising that a visit to New Asia Bar at the Swissotel Hotel was so enjoyable.
Bennys job made it difficult for him to get free nights; the advantage being that the days were great for sight seeing together. However it became a routine with me drinking (sensibly..) each evening before ending up at Tantric to meet Benny after his work had finished; and no matter how hard you try I think theres always a certain sense of guilt one person merry, the other sober after working hard all night.
So it was great when Benny did manage to get a few free nights, and on one of those we went to New Asia Bar. This is near Raffles City, and the bar is on the 71st floor with one of the most spectacular night time views of Singapore. Added to which it was happy hour!
It was so nice to see Bennys smiling face as he relaxed and enjoyed himself.
An enjoyable experience for someone whos fascinated by all things associated with electrical gadgets, computers, software. was Sim Lim Tower where there was an astonishing collection of I.T. goods, and the prices were so tempting (and all legal !!)
However if you feel the need for a quick escape theres the beautiful Botanical Gardens.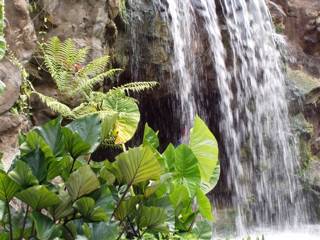 A fairly short taxi ride from Orchard Road. A beautiful Park to walk about, away from the busy traffic and crowds. Enjoy walking around the swan lake, the fountains and numerous displays of colour.
When I was in Singapore I got myself an 'ez.link' card. This was a card that could be used as a travel card on the MRT or buses. A very convenient way of travelling, and when necessary you simply 'topped' up your card.
Again, I have to say that travelling on Singapore's transport system makes me feel rather embarrassed to reflect on the quality of transport we have in Britain. (Although, yes, I will admit it has been improving in recent years).
Like the food halls, transport is so cheap and give excellent value for money.
As a tourist I was usually able to travel in comfort, choosing my times outside 'rush hour'. Although of course there were
elevator
times when it was rather crowded.
Having an ez.link card made it so much easier not having to carry loose change, and worry about losing paper tickets.
So, apart from the usual 'cultural' activities, and shopping, there was time for simple relaxation. One such time was going to the cinema to see 'Elektra'.
And of course a visit to 'Sentosa' is a must if you get the chance.
Sentosa is a kind of fantasy island, south of the main island. Although you can gain access via cable car from the World Trade Centre; the thought of being 300 ft. up in the air in a small cable car didn't really appeal to me, so we used the Causeway Bridge.
Formerly the headquarters for British military at Fort Siloso, it was developed into a resort in the 1980's when it was re-named Sentosa.
There is so much to do, but with my limited attention span I wanted to enjoy a trip on the monorail which took us on a trip round the sights of the island. And then to the 'Underwater World'.
A submerged moving 'sidewalk' enables you to enjoy a ride where you can observe all around you thousands of sea creatures.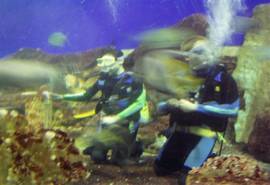 And maybe join in?
And such a beautiful beach, surprisingly quiet; but it was a weekday, and it did start to get a bit busier with school children towards
the end of the afternoon.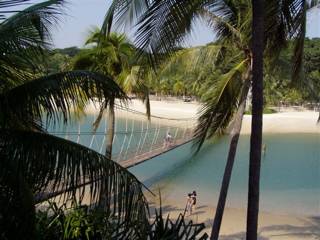 I was happy enough to sit with Benny in a shaded area and have a pleasant meal overlooking the water.
And theatre?
Well, we did go one very hot day to the 'Alliance Francaise' to see a matinee performance of 'Spring Dancing' by Toy Factory theatre ensemble.
To quote the Director, Jeremiah Choy. '..not a musical, and certainly not a play. It is a showcase of seven multi-talented young men of how the songs they have chosen had affected them then, and still affects them now.
If you had read my article on Hong Kong, you'd realise that I could relate to that sentiment.
So, as you can see, there is so much to do in Singapore. You can spend a fortune or if you are like me, enjoy the simple pleasures.
It's essential for me to be able to get to grips with the country I'm visiting. Sometimes getting away from the 'touristy'parts. But we can't escape one place Suntec City. A business, convention, and shopping complex.
Five towers surround a huge Fountain The Fountain of Wealth.
And of course I followed tradition and walked around it in order to encourage good fortune into my life. However that was when the fountain was not at full force!
We went back one night to see the full fountain and laser show.
Although it can be a long walk back to Chinatown, if you choose your route carefully it can be worthwhile.
Walking along the river side, so many wonderful sights that take on different shape at night and a beauty of there own.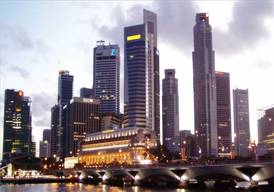 In this picture you can just make out the 'Merlion' in the bottom far left corner.
And although I tend to be a bit of a traditionalist when it comes to architecture, the Esplanade is quite spectacular!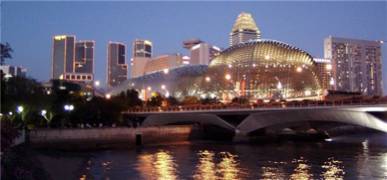 But let's get back to the bustle of Chinatown. To be able to walk down one of the side streets and see unusual stalls.
This one stall had an extensive display of dried meats.
And leading out into New Bridge Road and looking at the lights across the road in readiness for the Chinese New Year.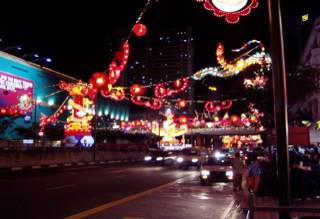 Getting back to the routine I mentioned at the beginning. Lying out on the bed, back at my hotel 'The Royal Peacock', watching a movie on television, till about 10.30pm. Then out onto Keong Saik Road, cutting across Kreta Ayer Road and ending up on New Bridge Road. Looking at the lights on display, until you reach Temple Street.
Up Temple Street, weaving through the heaving crowds of night-time shoppers, to the 'Backstage Bar'. Usually recognising a few of the guys I'd got to know - Jack, Terence, Azim, and Sabri.
Enjoying a glass of wine out on the balcony, overlooking the crowds below.
However the British tradition of 'pub crawl'gets to me, and a certain restlessness takes over and I have to move on. The pity of this side of me is that I was unable to enjoy the company of another good friend one night, Jason, who wanted to go straight to 'Tantric'.
So, over South Bridge Road towards Ann Siang Hill. And a drink at '95' on Club Street.
I had an enjoyable conversation in '95' one night with a gentleman by the name of Mark Richmond, who was interested in my Welsh background.
And I forgave the owner of the bar Irene Ang for initially referring to me as 'Mr. English'!!!!!
(It was on Club Street that Benny and myself enjoyed a nice meal at Jerry's Steakhouse one night.)
Out into the night, and up Ann Siang Hill. It was a spectacular sight to walk up the little side lane and experience the magnificent view of the skyscrapers looming over the hill, and the full moon nestling between the great towers.
Through the small park, frequented by some 'very friendly gentlemen'. Down the other side of the small hill to Amoy Street, and Caprice bar.
Again out into the warm night air, over Ann Siang Hill, walking by Maxwell Food Hall on Maxwell Road to Neil Road, and 'Tantric'.
www.backstagebar.moonfruit.com/
Through the entrance of 'Tantric'into the small courtyard, with the sound of gentle waterfall, and into the subtle lighting of the bar.
ItŐs quite something to stand at the entrance of the bar at night, facing outwards, and seeing the contrast in the architecture. The skyscrapers in the distance, in the near distance the traditional buildings with there colourful stonework, and then this peaceful little courtyard.
Sadly such enjoyable routines don't last.
On my last day I had developed a fairly bad cold. But I walked around, enjoying the colourful sights I had grown to admire.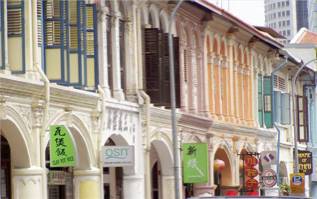 The night soon came, and it was a case of waiting for the taxi to take me from 'Tantric' to the airport. As the car dove off, a last turn around to see that wonderful smile that had first greeted me, slowly vanish into the distance.