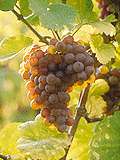 AKA
Traminer Musque, Gentil Rose Aromique and Red Traminer.
Geography
White grape of the Alsace region of France and many German regions. Also grown in Northern Italy, Eastern Europe and New World.
Viticulture
Grows best in cooler climates where good acidity plays a significant role. The terroir of the Alsace region reigns supreme. Other countries seem to produce less exciting, blander versions.
Varietal/Blend
Gewürztraminer is used as a varietal.
Flavour & Character
One of the world's most intensely floral and aromatic wine—bursting with flavours of spice, lychees and rose petals.
Vinification
Produced after the style of German Rhine wines and sold under its grape name rather than region of origin.
Style
Although all Gewürztraminers have real intensity, styles vary from dry to richly sweet.