Part 2. Uluwatu Temple, and some night life.
The hotel was in Tuban. If you look at a map of Bali it's way down the South, on the 'left hand' side.
Going in a Northerly direction you'll soon be walking into Kuta, then Legian, and into Seminyak. But taxis are so cheap that walking becomes a novelty after a while! Especially in the day time heat. It's always warm/hot, but the rainy season is November through to late March.


Just watch for taxis with meters, and ask a price before you start. The 'Bluebird' taxis seem the most popular. But to be honest, it really is pennies in difference.


Kuta up to Legian and Seminyak are the liveliest spots for tourists. There's plenty of action on the streets at night. Some might say it detracts from the beauty of Bali; and I would have to emphasise that while this may well be an ideal place for fun, it's a shame to come all this way if all you want to do is eat, sleep, and surf, and miss out on the amazing landscape of the countryside.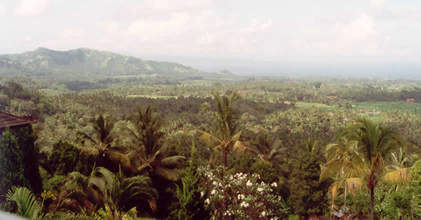 Yes, it's a surfers place alright; the wave seems to crash further out from the beach over coral reef, and then still impressively rolls in rather more modestly.
The beach was an action beach, rather than a beach to relax.
For a more tranquil time you'd be better off on the other side ­ Sanur, and Nusa Dua. Here they have some pretty splendid hotels with relaxing beaches - www.hyatt.com is an example.
Although the night life is at a far gentler pace you are not far by taxi from the hedonistic delights of Kuta etc.
Plenty of other places of tranquillity exist for those seeking greater peace and natural beauty.
For my first two days I just relaxed, walking round Tuban and Kuta, getting used to the joys of doing nothing!
A routine soon formed with Steven. He'd call at my room about 10am and leave for his home in the city of Denpaser at 10pm each night.
My first bit of sightseeing was to Uluwatu Temple.
After walking round Kuta, endlessly shopping for clothes, and 'bargains', we'd enjoy the hotel pool, then change for the evening.
This evening we were off to the temple.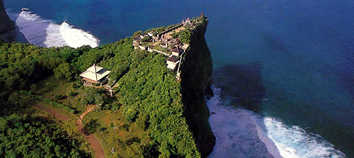 Being near the beach and dusty streets, you'd be forgiven for the thinking that this was an arid territory. But as we were leaving the beach area and hitting the main traffic the lush foliage became more evident.
It was intriguing to witness the hundreds upon hundreds of 'vespas' ­ scooters, being driven by the workers on the way home, and those working in the services sector dressed in traditional Balinese dress on there way to work at the hotels.
It would have to be a brave foreigner to drive these roads I thought!!
As we drove up through the hillside lanes after leaving the busy traffic roads I noticed the green hedging and plentiful tropical trees.
We got to our destination, a car/coach park, and asked the driver to wait for us.
It was a gentle stroll through the lane already lined with visitors arriving for the same natural spectacle that we'd come to see ­ an incredibly beautiful sunset, silhouetting, the Temple perched on the very edge of the cliff.
Also amusing the 'audience' were the wild monkeys, so unafraid of us humans. But untouchable if you wanted to keep your fingers !!
Looking down over the edge of the cliff at the water, pounding at the cliff rocks.
As we walked to the Temple we were within range of a group of Balinese dancers chanting traditional Balinese songs, with the simple instruments in evidence in the darkening evening air.
Up some steps, and a walk round the old stone Hindu Temple in the twilight.
Back to the car and a drive back to the hotel, and a stroll to a restaurant for our evening meal.
We tried various restaurants.You're spoiled for choice in Bali with restaurants catering for all needs. From typical Balinese to European, and Asian menus.
One of the first places we tried was on the sea front overlooking the Indian Ocean, Pantai I think it was called.
But a favourite was to be 'Impala'. This was on the main road just a short walk outside the hotel heading towards Kuta.
To give you an idea of costs.
2 x cokes ­ 10,000
1 x tomato soup ­ 13,900
1 x toasted bread ­ 5,900
1 x ham steak marinated in pineapple juice ­ 32,900
1 x Balinese speciality ­ 31,900
1 x apple pancake/ice cream ­ 17,900
1 x rum raisin - 8000
1 x Bali coffee ­ 7,500
That comes to about 135,000 Indonesian Rupiah (including tax etc.)
£1 = 13,000 ir
Total just about £10 for the two of us. Excellent quality food in very pleasant surroundings, and no pressure.
Tonight I wanted to try a couple of clubs. So off we went at about 10.30pm, which was still relatively early by there standards. First we tried the 'Hulu'
The Hulu was a fun kind of place specialising in female impersonators. The place itself reminded me of a scout hut !!
Everyone was good humoured and the acts quite amusing. I think one of the 'turns' had a bit of a 'strop' though.
Standing mid-stage waiting for the grand start, but when the spotlight hit, well it was kind of 'off centre'.
With that introduction the 'artiste' walked off in a huff.
Soon to re-appear though ­ the show must go on !!
Afterwards we went to the 'Q-Bar'.
This was a very nice bar with an up-stairs 'clothes boutique' etc. However being mid-week, and still relatively early it was rather quiet.
So we walked into the night and watched out for a taxi. It was 'interesting' to have the occasional guy cycling by asking if I fancied a 'massage'.
Back to the hotel to drop me off, continuing on to Denpaser to take Steven home.