Part 3 Bird Aviary/Monkey Forest/Besakih
It was a very comfortable routine to get into.
When Steven left each evening after our meal, I would normally go to the hotel bar and chat for a while to the staff. Although there was a nice s
area outside, I preferred getting to know the people who worked there.
It was a popular training place for students. They normally did a six month on-site course, no pay, just expenses.
One guy I met a couple of times was Arak.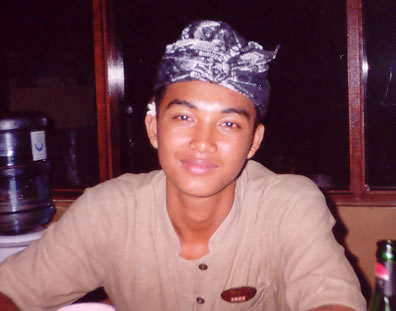 I was struck by there keenness, they so wanted to learn about people from other countries; there culture and way of life. There politeness was remarkable, and I was put to shame by the way in which they 'picked'up other languages with such ease.
Although I'm sure they were capable of getting annoyed they were a very tolerant people of differing lifestyles and attitudes.
But courtesy was paramount.
Don't get me wrong, there are rogues everywhere, but here there was a future generation that any employer could be proud of.
Eventually I would have an iced 'coke'and take a stroll through the gardens, discreetly lit, and with the haunting Balinese music playing subtly in the air, seeming to mingle with the scent of blossoms and spices.
It was so tranquil.
And then the Indian Ocean. I would stand mesmerised by this powerful ocean.
One night there was an horrendous lightening storm out at sea.
But here I was safe, in the warm night air, at the edge of the hotel gardens.
Santika was so right for me.
I would walk back to my room. Have a relaxing bath, climb into my large bed with fresh white sheets; and read until I began to nod off.
There was no more desire to go to any clubs, or bars. In fact I was so relaxed, so 'chilled'out that I didn't bother with alcohol !!
Obviously it was fortunate that I'd made a 'schedule'with Steven of things to do. Otherwise I might have dropped into complete lethargy.
This day was to be a trip to the countryside.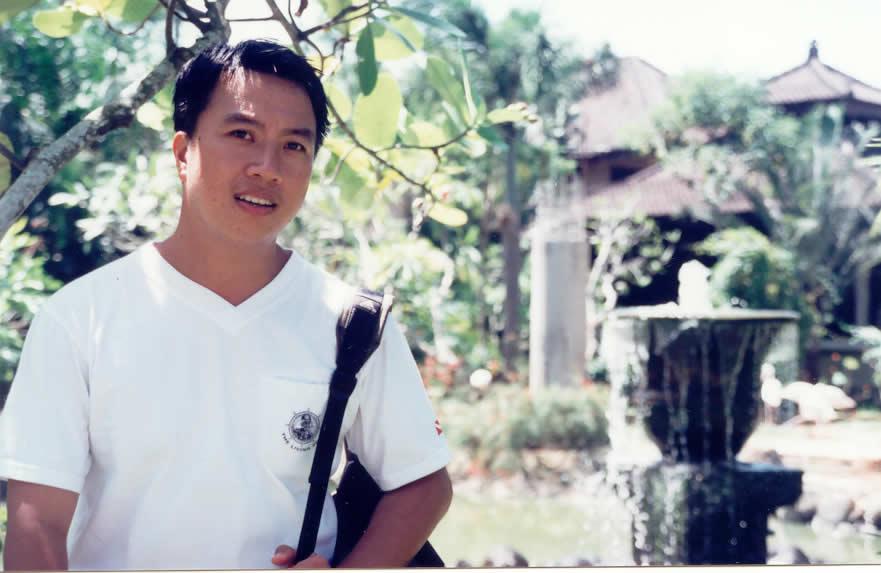 Steven called a bit earlier, and after morning tea we went to reception to wait for our car.
Now, hire cars were so comfortable, spacious, and of course air conditioned. A car for the day, with driver, for 8 hours cost about £22.
For this, your driver would take you where you wished, park up and wait, or, unlike my good fortune to have Steven as my companion, the driver would also act as your guide.
And of course you had somewhere to leave your bags in safety.
Off we drove, through Kuta square.
Early in the morning there was plenty of action. Stalls being set up, people on there way to work.
We soon left the crowds and headed in the direction of Ubud.
Ubud is a place full of artists, whether you are interested in paintings, jewellery, or wooden carved statues.
Numerous side streets. And of course thriving market stalls, restaurants ­ small and large.
Music shops, cloth shops.
Ideal for 'retail therapy'.
But we were heading for the Bird Aviary. As we approached and parked, it became apparent that this was not just a Bird Aviary, but also a Reptile House. I gave the reptiles a miss!!
The bird aviary was very well cared for, and housed some beautiful examples from round the world.
The birds, although keeping there distance, did not seem unduly worried by us humans.
It was a pleasant walk.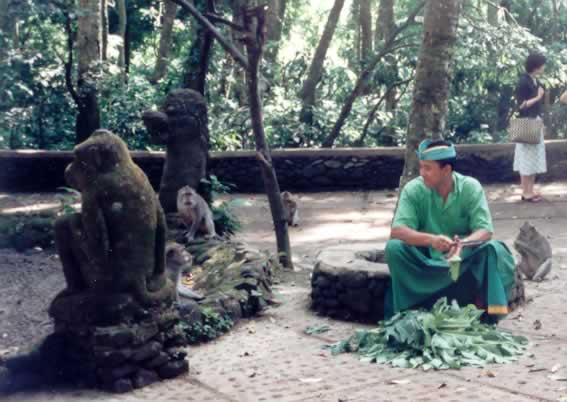 From the Bird Aviary it was on to the 'Sacred Monkey Forest Sanctuary'.
I think I've mentioned before the amazingly lush tropical growth that existed. This seemed to be an ancient, well established woodland, and the notices soon made it clear that we humans were the guests in a territory that 'belonged' to the monkeys.
A beautiful walk through the woodlands, watching the monkeys, and there young, leaping about, or just watching us casually with complete indifference. The young monkeys playing, and falling from trees, unhurt into the shrubbery below.
But you were aware that you did not even think of touching the monkeys, and held onto any loose items such as bags or cameras.
We walked around the paths, enjoying the shade from the trees shielding us from the heat. Eventually walking down a slope, and over an ornate stone bridge, below which was a narrow gorge with steady water flowing, and came to a well.
The well contained crystal clear water in which swam, what I assumed were carp.
Pouring water into the well were carved stone Hindu figures.
Looking around, the huge trees were draped with aged creepers, gently drifting in the air.
It was time for a drive into Ubud.
A look round the shops, and for a meal at the 'Dirty Duck Diner'­ 'Bebek Bengil'.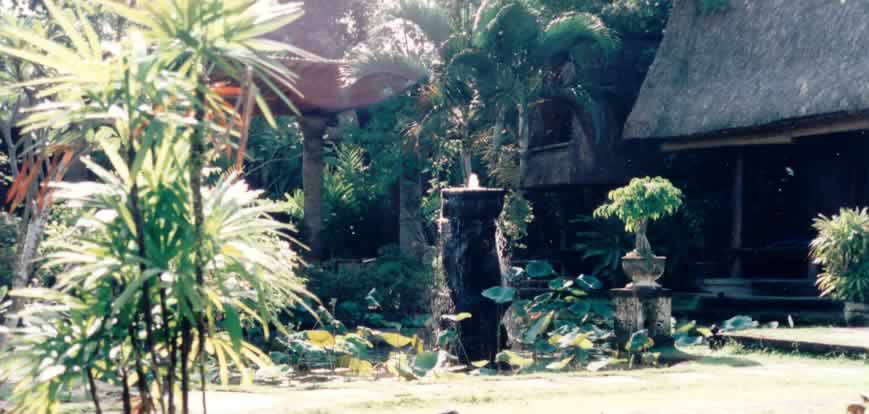 This became a favourite eating place.
It was called the Dirty Duck because during construction there was a rain storm, and some ducks landed for shelter, and wandered onto the area of the restaurant already completed, making a mess.
From the street you crossed over a very small pathway, through a narrow arched entrance, to be greeted by two small lily ponds. On to an open area of land where you chose your individual seating area.
From here could be seen the rice field and a small Hindu Temple.
All seating areas seemed to be in there own territories. When I was there on one occasion there was a group of Japanese, sitting cross legged around there low table on what appeared to be a raised area of ground.
So comfortable, and although the service was prompt and efficient, no sense of urgency.
Tomato Cram Soup (homemade) 10.500
Chicken Kiev 28.500
French Fries; 7.500
Bebek Bengil (fried duck) 48.500
With Rice
Coconut Cream Pie; 10.500
Coke3.500
Bali Coffee3.000
With tax and service charge total136.850
That's just over £10
Shopping, and back to Kuta.
The trip to Besakih was to take a whole day.
Again starting off early in the morning, and a long drive through the beautiful countryside.
A stop at a small town to pick up supplies, and being early enough to catch workers enjoying a meal at a small 'eating hall'.
We were encouraged to join in, but were keen to get on our way.
The countryside became more mountainous; and although I live in the valleys of Wales in the U.K. these hills took on a more dramatic appearance. Soon we were high enough to see the ocean around Bali.
And we came to Besakih.
This Temple is about 1000 metres up the slopes of Gunung Agung. It is the holiest of the Hindu temples on Bali, founded by an 8th century Javanese priest, but probably dating much further back.
There are over 20 temples dominated by the largest temple ­ Pura Penataran Agung. It all spreads out over the 3km of the hillside, commanding an incredible view of the countryside below.
Many of the temples are restricted to Hindu worshippers.
We hired a young guide which is something I was glad about. It was so interesting to get an idea of the background of Hindu religion, and of the history of the Temple.
There was so much I learned, which would take too long to relay here.
But I learned that many of the 'Gods' carved in stone that you seemed to see everywhere were simply 'manifestations' of 'Shiva'­ the one God.
Many of the 'ugly'faces to be seen everywhere existed to ward off evil spirits.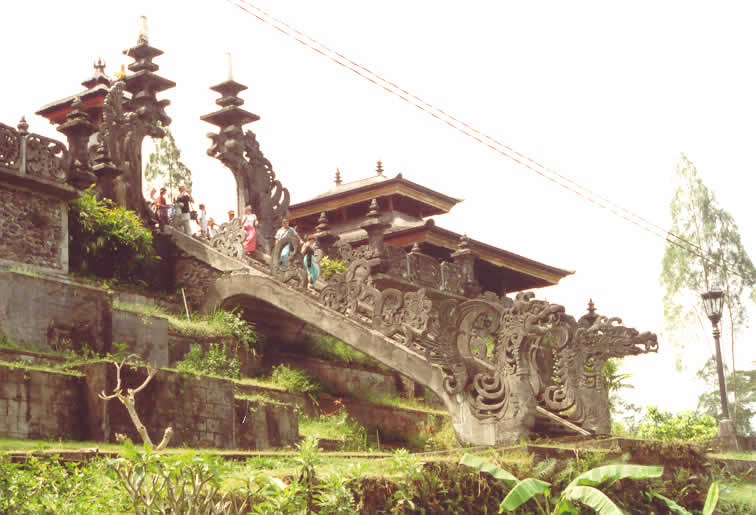 Simply walking up the various levels had it's own meaning; one side being 'Good'the other 'Evil'. As in 'Yin Yan'.
The Eternal balance between Good and Bad.
We had just missed a significant date in the Hindu year when thousands of worshippers flocked to this site.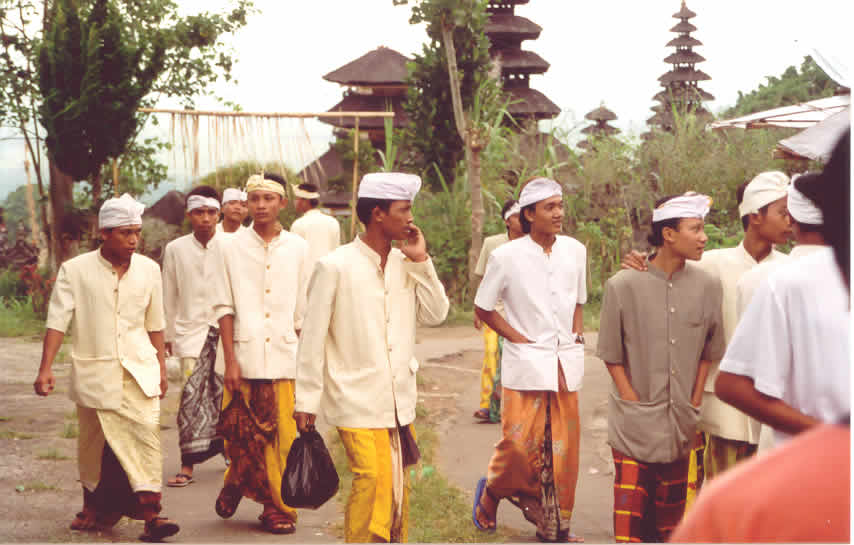 But even so there were many Hindus here to pay there respect.
As with the Buddhists I had come across in Bangkok, so here with the Hindus, I seemed to get a sense of a 'people'merely wishing to live in Peace with there own beliefs.