Melaka 2006
This state in Malaysia lies between Negeri Sembilan and Johor, alongside the strait connecting the Indian Ocean and the China Sea.
Melaka was named after a tree by an Islamic Prince Parameswara in 1396; and has been heavily influenced by the Chinese, Portuguese, Dutch, and English throughout history.
From a small fishing village Melaka developed into an important trading port.
Nowadays it is more of a tourist attraction.
In November 2006 I made my fourth trip to Singapore to see Benny. Now much as I like Singapore, four times is pushing it. I asked Benny if we could do something to get away from Singapore for a change; where he might even be able to relax from the pressures of his work in Singapore.
Since Malaysia is just across the border by coach, Melaka seemed an ideal choice – if only for one night.
How could I possibly be annoyed, seeing Benny's smiling face as he explained that he had the time for departure wrong.
I had arranged an early morning call at the hotel for 5.50am. Worrying slightly about the shortage of taxis at that time of the morning we got to the coach departure point, to discover we were an hour early.
Off we went to a hotel lobby where we passed the time relaxing.
Back to the coach departure point. And some very comfortable coach seats for our long journey.
Reaching the border, and encountering a large party of school children with the same idea.
It was a cute border crossing. Good job Benny was with me, I would not have had a clue what was happening.
As we continued on our way into Malaysia I was struck by the beautiful countryside. There seemed to be endless miles of green plantation. I think Benny said they were palm oil trees and rubber plants.
A break at a service station. Some very heavy rain, and we entered Melaka.
And our hotel – The Equatorial.
Benny had chosen well. It was beautiful.
One of the first sights to strike me was an unusual form of transport that I was later to learn were three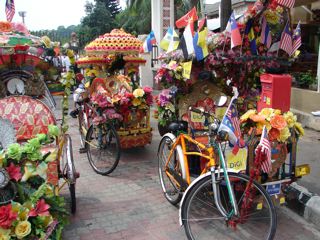 wheeled bicycles that could be hired for a ride around town to see the sights.
However I did not indulge in a ride on one of these 'trishaws'.
After relaxing for a while and freshening up after the long journey, it was time to go sight seeing.
Now you'll have to excuse me, such a short stay, that my knowledge of the area may be sadly lacking.
Out of the hotel, and turn right past the 'Proclamation of Independence Memorial', towards Dutch Square.
Here we first explored the A' Famosa (Porta De Santiago) fortress built by the Portuguese to help protect Melaka against foreign invasion. Eventually dismantled by the British.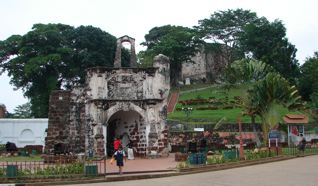 Although full of History I'm afraid I find it hard to empathise with such landmarks.
It was however, quite touching, passing the Dutch Graveyard.
From the top of the hill, where the statue was, there was an extremely good view of the surrounding countryside, reaching the Straits.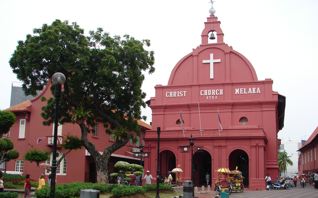 Nearby the many tourist stalls was the 'Christ Church'.
Notice the red colour of the walls. Much of the material for the buildings imported from Holland.
It's quite impressive inside, and I understand the pews are handmade.
We crossed Melaka River. I have a fascination for places of worship, and small side streets full of shops and stalls. Benny thought this would be an ideal combination of the two for me.
I did enjoy the many 'antique' shops, and 'gift' shops. And the friendliness of the owners/staff was so nice.
Although it was a quiet time ?
Here's where I summed Melaka up in my mind – a place of sight and sound.
Apart from the intriguing old 'curio' shops there were also some stunning shops of modern design done out in exquisite fashion.
But out in the street, just look up at the external walls and windows; and the doorways!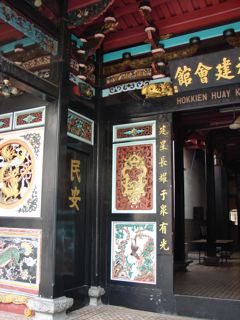 We continued our leisurely stroll around the streets. Hunger was beginning to strike, and we put this right by going to a restaurant.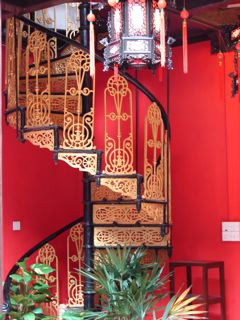 I am sorry I don't know the name of the restaurant. But the decor was stunning.
This picture of the stairway was taken in their courtyard.
We continued our stroll around the area. Eventually coming across the Cheng Hoon Temple (Temple of Bright Clouds).
This is stated as Malaysia's oldest Chinese Temple founded in 1645 by Lee Wei King (hope I've got that right !).
Covering an area of 4,600sq metres this example of Southern Chinese architecture is dedicated to Kwan Yin – Goddess of Mercy. A most impressive sight.
To be found 'hidden' in a backstreet this was a very relaxing, peaceful place.
We carried on walking after spending a while at this Temple, and very soon came upon Kampong Kling Mosque.
This mosque was a blend of Sumatran and Western architectural style; unusual in not having a Moorish dome but a three tiered roof with what appeared to be Hindu influence.
It then dawned on me that I had never entered a Mosque.
And still haven't.
Hope to one day.
It was slowly getting dark and we made our way back towards the hotel.
Of course we had to visit the shopping malls. Very modern with some amazing bargains. Poor Benny had to be very patient as I walked back and fore, comparing prices.
A bit off putting at one stage while we were having coffee and chocolate/carrot cake to see a security guard casually strolling by with a rifle over his shoulder, then sitting down to have a cigarette and coffee with his friends; perhaps it's me, but I found this slightly lacking in professionalism.
But this did not spoil the overall feeling of contentment I had as we relaxed at the coffee shop.
Soon back to the lovely hotel to relax before later enjoying a couple of pizzas and a bottle of wine at the hotel's 'pavement caf?'.
Back to Singapore next day. A short visit.
My memories of Melaka seem to consist of sights and sounds. And the most important sound of all? The sound of laughter as Benny and myself were able to relax, strolling around this historic place.
Although an interesting place, I think a short stay is enough. I get the idea that with the development taking place, Melaka could one day be a prominent tourist spot.