Reconstitute - To rehydrate dried food by soaking it in water or another liquid.
Reduce - To thicken or concentrate a sauce by boiling, which lessens the volume and intensifies the flavor.
Rice - The most widely cultivated cereal in the world after wheat. Many varieties divide broadly into long grains (such as Patna, Basmati, Surinam) which tend to stay separate when cooked and short grain (Carolina, Arborio, Piedmont) which tend to stick together. Versatile and used in innumeral dishes rice is the staple diet of a large proportion of the worlds population. Rice can be cooked either on the stove (risotto. steamed plain boiled), in the oven (Pilaff) or in a rice cooker pictured below.

Generally speaking rice is cooked 1:2 rice:liquid by volume to achieve full absortion of the water or stock. For Rissotto the ratio is 1:3 rice:liquid and the result is a moist creamy mixture.

more on rice books and cookers

For details of different rice varieties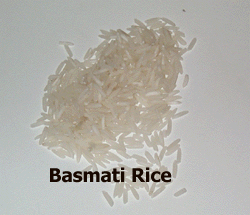 Rillettes - A preparation of pork, rabbit, poultry or goose cooked in lard then pounded into a rough paste and potted. Rillettes are served cold and usually as an hors d'oeuvre, often with toast.

Roast - A dry cooking process in the oven or on a spit with a small amount of fat, usually refers to meat.
Root Vegetable - The "hard" vegetables that are grown underground such as carrots, turnips, swedes.
Roulade - A rolled up preparation of meat, sponge, vegetables, fish which is usually stuffed.
Roux - A mixture of butter and flour cooked over low heat. Used for thickening a sauce and soups. The roux can be prepared in three ways.
White-where the mixture is barely cooked and takes on no clor. This is used to produce a white sauces called Béchamel.
Fawn - where the roux is cooked for a few minutes so that it starts to color slightly, this is used to make white sauces - Veloute
Brown - where the roux is cooked to the colour of white coffee and is used to make brown sauces such as Espagnole. see also Boiling
Rub - To blend ingredients by rubbing through the fingers, more often called rubbing in. A blend of herbs and spices that coats the surface of meat used to add flavor.