Let the story begin.
Bali does seem to be the Island of the Gods; but is it also the Island of Dreams?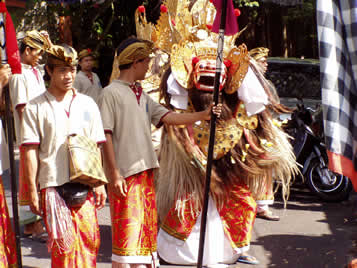 You've seen my previous article on Bali. I can't praise the little island and its people enough.
Just so beautiful.So I returned a couple of months ago. This time for a month, enjoying the company of my Balinese friend Steven.
But because of his work, there were times when I relaxed with other people.
One such time was with my friend Pandu from Jakarta.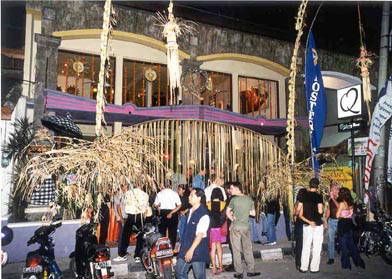 Sitting outside the 'Q Bar'.
The warm evening breezes, convincing me that the world was not my problem for now. I was away from it all; I could smile inwardly as well as outwards. My entire world was at peace.
Eventually as the night wore on, and my satisfying conversation with Pandu was gently easing, three guys sat at the table nearby.
We all politely smiled.
There was one white guy, and two Oriental.
The white guy, who I got to know as Richard asked where I was from.
Instinctively I tend not to mention my actual home of 'Wales', because invariably people abroad think that Britain is just good old England and London.
But Richard persevered, and so I told him, I live in a small village about 20 miles from the Capital of Wales ­ Cardiff.
At which point he mentioned that he was from Pontypridd ­ which is just 17 miles from where I live!!
But Richard was now living in Hongkong, with one of the other guys ­ Gordon.
That left the third. A very enigmatic, intriguing guy who struck me instantly as someone I wanted to know.
He was Abraham (Ab.); he suggested we meet up, but I had commitments and was unable to make either of the two days that he was still going to be in Bali.
From this point a journey to Hongkong was to be on the Path of my Life.
I was pleased that Ab e-mailed me at the address I gave him.
So began a daily routine of 'Good Mornings' at my work computer, and a chatty message at my home computer in the evening.
One thing led to another. I booked a 'flight only' to Hongkong to be Abs' guest, to have the opportunity to get to know each other better.
Very irrational, I know, to travel that distance after knowing someone for what must have been about17 mins. in Bali.
But something told me I could feel confident.
It's autumn time now in Britain. And a good time for the weather in Hongkong.
After the build up, the day was upon me to travel to Heathrow, the start of the 'epic flight'.
Now I have to say that waiting for the coach at Newport (Wales) bus station is not the greatest of pleasures ­ far from it.
But it would be worth it.
The coach was about 50 mins. late arriving at Newport.
But it would be worth it.
The coach was crowded.
But it would be worth it.
The carton of tea was expensive.
But it would be worth it.
Got to Heathrow and straight for the 'booking in' desk for Cathay Pacific.
They didn't really have any great seats available even though I was very early.
But
There was one golden moment.
I met my good friend Karen and her husband Ian on there way to Qatar; so I enjoyed a few glasses of wine courtesy of Ian (good ol' Ian ­ I would never know what wine to ask for, a
nd fortunately he seemed to know; I'm afraid my usual request is as long as it's white, double digit strength, and not finished in that funny oak thing!)
Even though we were only together at the airport for about 25 mins. it seemed sad to see them go.
But.
I find flying quite exciting, and it was great fun just waiting to board the plane. You know ­ Executive class, Business class, other grand names, and then the loudspeaker announces that it's time for us peasants to board ­in order of row number please, we want to pen you in tidily.
Oh joy, oh bliss, - I managed to get two seats by the window.
Soon we were off, about half an hour late.
But.
The first trolley came around with what appeared to be wine and soft drinks.
I had to order Gin and Tonic, as a special service!!
So in order to facilitate this fine distinction of mine I ordered three (I'm cutting down)
The trolley meal was ok; let's face it, I'd starved myself in order to make the most of what I'd paid for the flight (a heck of a lot for me!!)
And having two seats meant I didn't have to eat like a battery hen, you know, your arms tucked tightly to your side for fear of bumping into the passenger next to you; and your arms going up and down like a clockwork toy soldier.
I couldn't really make out what the food was ­ but who cares!
It was edible.
The in-flight films were quite good. It only took me about half hour to work out the controls for my 'personal viewing device'.
Sleeping was an issue, even with two seats. I think I empathized with 'Quasimodo' (the bells, the bells ­ you know the one, swinging in the Cathedral).
Another meal, soft drinks, 12 hours had passed. The excitement built.
I was struck with diarrhea.
Sitting on the plane toilet seat was a challenge to be taken up with a brave heart.
At least there were no impatient queues.