Having stepped quickly into the air-conditioned mini bus we were handed maps of our intended visit.Out into the street. Yes, it was a bight sunny start to the day, but I was amazed by the heaving crowds, already venturing out into the streets. People were beginning to set up pavement stalls.Food, ornaments, stunningly beautiful flowers that we pay a fortune for here in Britain. Ladies discreetly clambering on to the back seats of scooters, on their way to work. People lining the bus stops. Taxis being frantically waved down.
People just casually sitting by the roadside, probably wondering at all the mad people dashing about. Small children, peering at my white face in amazement, as they passed by looking at me looking at them.
I began to feel at last as if I was away from home !
No, I couldn't compare this to London or America. It had a unique hustle and bustle of its own. We turned eventually into a small street, entering into a hotel complex, and joined a larger bus where we met other people from various hotels.
On now to our destination ­ 'The Grand Palace'.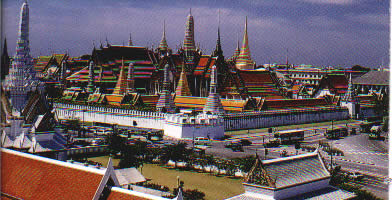 The bus pulled up outside one of the entrances that penetrated the high wall of the 'Grand Palace' grounds.We entered and were greeted by a gathering of soldiers just about to start guard duty.The grandeur of the buildings that greeted us inside the grounds was stunning.
Formerly the home of earlier Royalty it still maintained an air of Majesty. The elaborate buildings with there bright colours, and high pointed features. Statues of fearsome guards.Gold leaved features.
A peaceful retreat from the bustle of the outside world.
Our guide was very good and gave us a breakdown of the history of the buildings, its spiritual significance etc. (The short, stocky, female guides with their little umbrellas put me in the mind of Mary Poppins after a crash landing) I'm not even going to try to elaborate on the beauty of the place. It is interesting though that the upkeep of such a marvellous place is supported primarily from public donations.
Gossip naturally filtered down.
The Royal family have almost God like status, and are revered as such. Any kind of offence towards the Royal family is dealt with quite severely. Rumour has it that a journalist was critical of a member of the Royal family and is now languishing in prison. I think they are fab. (I intend returning one day !!).And it needs to be said ­ the film 'The King and I' was not filmed here; nor is it allowed to be publicly shown; and the King certainly did not have a romantic relationship with Anna.
I did meet a group of kids one evening and asked them diplomatically about this aspect of there culture. They acknowledged it; and when pressed about there feelings about the Thai Royal family (telling them about the criticism that takes place publicly of our own British Royal family), they merely said that - yes, they had there own opinions, but ­ and at this point they motioned as if to 'zip up there mouths'.
During my tour I was to come across the Emerald Buddha, which only the Monarch is allowed to touch; such is his spiritual status.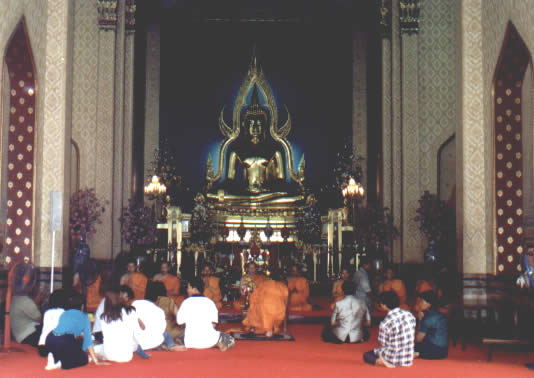 I would not say that the people of Thailand are an ingratiating populace. On a tour of the city we passed the Prime Ministers house where there were farmers 'camping' on the grass verges in protest against their living conditions etc.
They had been there for some time making a very public statement.
It was during this part of my stay in Bangkok that I was able to see some quite modern and grand architecture.
The Temples was to be another main highlight of my visit. I missed my one booked tour by sleeping late, into the afternoon !! After a night out in 'Silom'.
Tell you about that - Later on. I was determined to see the Temples, so booked another trip. This trip was again an early morning. A number of places were visited as part of this tour. I can only say it was a memory that will always remain.
In various places, in the walls, the ashes of deceased members of the family are sited alongside statues of Buddha images.
The day I was there I was privileged to witness a 'dedication' service taking place.
All the descendants would gather at the ancestor's site.
Buddhist monks would be invited to make a 'dedication' to there ancestors, and a table of food and soft drink would be spread out for both family and monks to enjoy afterwards.
Whenever I visit foreign countries I always try to respect there traditions; and on this particular occasion there was another tourist just shooting his camera almost into the faces of the monks, using his flash at random.
Prat !!
At this point I looked on apologetically towards the young monks. One of them noticed me and smiled knowingly.After the service, I looked at him, and gesturing towards my camera asked if it would be okay to take pictures.
A smiling 'okay' was returned.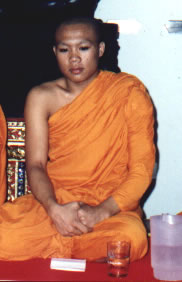 It seems that it is not uncommon for young Thai guys to serve as monks for about 3 months; or 2 months more often nowadays.The monks I encountered had entered into a lifetime of service as monksIt's extraordinary that in a country comprising numerous nationalities/immigrants there is very little trouble.This is attributed to the primary religion of Thailand ­ Buddhism.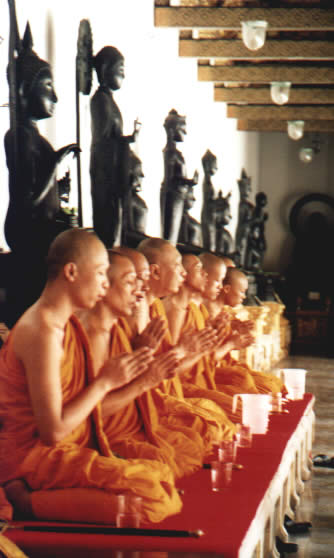 You probably already know, but it was impressed upon me, that what we call Buddha is often referred to as 'Buddha Image'. The statues we see of 'Buddha'.
As we would know him, 'Siddartha Gautama'. The man we collectively call Buddha.Buddha being a state of 'Spiritual Enlightenment' ­ of 'Seeing Reality' .A very significant way of life for many millions of people round the world.
And of which I have enormous respect.
At the end of these tours I would end up in the hotel swimming pool to unwind; but I soon discovered the reason for my journey to the hotel in the damp car. At around 2.30pm each day the sky would go dark and there would be a stunning thunder/lightning storm. It seems that in order to get the best time in Bali, I had also chosen the hottest time in Bangkok ­ when the Thais themselves choose to 'get out of town'
Nightlife
Apart from the sightseeing there were other distractions. The hotel boasted 'traditional Thai Massage'. Well, I reckoned I deserved a little pampering.Down to the hotel reception to make a booking; and off up to the top floor of the hotel to the masseur. Strange expectations on my part perhaps. A bit of Asian splendour in the surroundings.?
No. I entered what appeared to be an extended 'broom-cupboard' littered with slippers and shoes.Guarded over by what appeared to be a lady interested in the day's affairs in the newspaper. I was escorted by another lady who could be mistaken for a lightweight wrestler (nice smile though!) into an area of cubicles.Asked to change into what could best be described as a back to front straightjacket. There followed an hour of limb pulling and contortion.
Oh dear, not quite the relaxing hour I'd expected. At the end of which I was made to feel guilty at not having brought a tip (I'd already paid at reception). No need for further prompt, after all, she knew my room number !!!. So I dashed off to my room and rushed back with a tip.
To the bar in the evening, and I'd decided that uncomfortable as I felt outdoors in the oppressive heat; and slightly overcome by the scale of this confusing city I should get out !! I'd already studied the internet for places I might be interested in. It was to be Silom Soi 4.
A few beers first!
The hotel had its own taxi rank, which was rather expensive. I was aware that it was a quiet time for them, and jokingly knocked down there prices; reminding them that the street taxis were so much cheaper. Off into the night, through the bustle of people and frantic nighttime traffic. Eventually pulling up on a busy road, which exposed the entrance to Soi 4 ( a side street).Street vendors everywhere. People jostling for your trade.'You want a girl ? No! You want a boy ? With feigned indifference I made my way through this human barrier. And I will now openly admit that I doubt if I could have found the place alone.. In that respect a taxi was very useful.
It was a street ablaze with colour and life. And there I could see the two bars I was seeking ­ 'The Balcony' and 'The Telephone Bar'.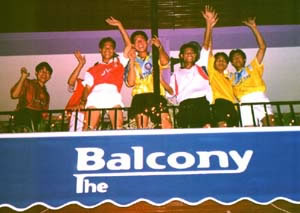 The 'Telephone..' first ­ I'd read so much about it.
It seems they have phones dotted about the place; so if you like someone or they like you ­ you simply pick up the phone. That's the idea anyway. Inside was pleasant enough, and the staff was charm personified. But I felt like a customer, I don't know if you can understand what I mean, I knew my place, and the smiles were those presented to people prepared to pay for them. I felt alone, not uncomfortably so, but 'obviously alone'; and wary that any company I may acquire I may end up having to pay for. But I was happy to be in a new, lively environment.
Then it was off over to 'The Balcony'. Now this felt more 'homely'. The staff was again charming and efficient; but I did not feel so 'obviously alone'.
Then I noticed upstairs they had a cybernet area. And I wanted to e-mail some people back home. Off up I went, to be greeted by guys enthusiastically singing away on the Karaoke. And I got my internet connection, but found trying to locate Yahoo a bit confusing. Until a young Thai came to my rescue. A remarkably confident young guy, and very pleasantly mannered. In no time I had my connection.
His name was unpronounceable to me; so we settled for 'Torn'. He was temporarily busy; so he promised to return and if I were still on my own he would show me around. I thought no more of it; but on the internet time soon flew by.And the next thing I knew Torn had returned. He invited me to join him as we went to the downstairs bar.
We got to know each other, and then we decided to have a look around ­ I was a tourist after all. I felt safe with this new friend of mine in this heaving city. Overwhelmed by the complexity of the streets and endlessly curious faces. This was the 'red light' district I guess ­ Patpong and Silom, so we ended up in an 'interesting' club where we were shown to seats in readiness for the nights show. Let's just just say that for a modest fee you could have your choice of guy for the night.
The 'floor show' that followed was a little too much 'in your face' for my liking and left little to the imagination.So we left there and went for a bit more of a walk. I'd always heard about 'short term' hotels and was about to find out more about them.Eventually, after returning to the 'Balcony', Torn managed to wave down a taxi for me and I returned to my hotel.
We arranged to meet up two nights later. A very interesting guy who certainly helped my short break be more than just a typical tourist race through artificial/glossy holiday brochures. I was able to leave Bangkok satisfied that I had experienced a little of Bangkok life.