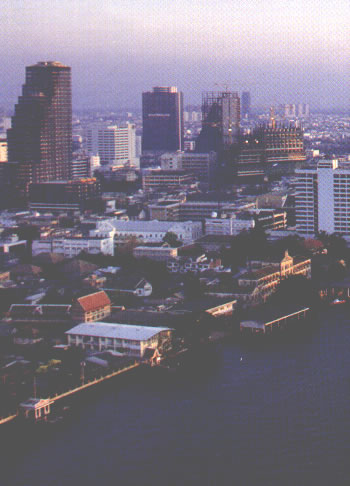 So, here I am 9,525km from London, in Bangkok, where 9.4million people live, which is about 16 percent of the total population of Thailand. And I can't find my tour rep. anywhere.
Oddly enough though, I wasn't in the least bit stressed. A few concerned Thai officials approached me to try to help; I showed one my travel schedule which showed the name of the Bangkok connection, and I was directed to the counter for Bangkok tour operators.With a laugh one guy waved over a young girl who must have been no taller than my elbow in relaxed position.
She showed me her clipboard, which did indicate my name, but I guess the other operators displaying their boards for people just arriving, must have overshadowed her.
Being sat amongst some rather 'dubious' characters (still being typically British !!) I had to wait while she arranged for the transport.
Upon her return it was the hard sell for 'sightseeing'. Now I was rather wary of this, and explained I had insufficient funds on me ­ could she take visa ­ oh, yes she could, and out came a little visa machine !
Well I did want to visit the 'Grand Palace' -and some Temples;- of which Bangkok has over 400 Buddhist Temples. So I didn't really mind committing myself to that, seeing as how I was only going to be there for just 4 days.
To the car, escorted by a charming young Thai guy. I felt guilty that this 'little' guy should insist on carrying my suitcase while I carried my light shoulder bag. The car itself felt rather damp, and smelt as if it had just been through a thunder- storm. How soon was I to find out why !!
Through a rather chaotic road network to my hotel. My first impression was of a city that had suddenly stopped building midway through construction. But this was 'Old Bangkok'; there is also the 'modern' side to Bangkok. Realising that Thailand was badly affected by the Asian economic 'crash' this was understandable. Thailand now imports far more than it exports, and is trying to compensate by marketing itself as a serious tourist attraction, and a good place to get your clothes hand made ! I was to see for myself the contrast between the poverty of the people and the opulence of the 'grand' palaces and temples, supported greatly by public donations.
Arrived at the 'Royal Princess'. It seemed out of place set amidst a clutter of run down buildings and streets. I think maybe I expected a rather sedate setting.
However the hotel was very nice. !
The entrance hall was extremely spacious with beautiful chandeliers, and its own shops selling items varying from designer clothes to expensive jewellery. My room was remarkably good value, even if the view did look over what appeared to be an outbuilding.
Now if you've checked out the hyperlink for the hotel you'll have seen that it boasts (and quite rightly so) different choices in cuisine. My first decision was naturally to try Thai food.
I went for chicken in 'pandana' (?) leaves as a starter ­ quite nice; braised/spicy beef soup (making a point of asking that it be very mild) ­ but I had to leave it anyway, still too hot for me, and upon examination the beef was too 'grisly/fatty'.
And Chicken/ Fried Rice.
Look, I did try !!
I felt rather awkward as the staff meticulously examined the spicy beef soup to see what was wrong with it!
From the 'Chinese' I settled for spinach in a crushed garlic sauce; with Chicken with the chefs special sauce and steamed rice; finishing with coconut/crushed ice.
And coke. (cola!)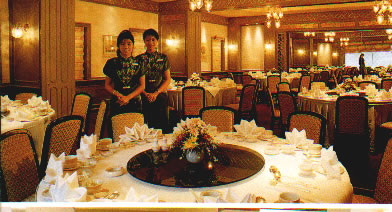 Very nice.
To give you an example of other choices if I'd been more adventurous:
'Braised sharks fin with crabmeat (or in brown soup)'
'Barbecued suckling pig'
'Sautéed crystal prawns topped with orange sauce'
Braised chile shells with black mushroom in oyster sauce'
'Steamed snow fish with garlic'
'Chinese dumpling in ginger syrup'
From the Italian, rather predictable I suppose ­ warm garlic bread rolls; spaghetti ravioli and mincemeat with a superb side dish of spinach, again in garlic sauce.
Finished by ice cream and coffee.
On different days I hasten to add !!
And all surprisingly inexpensive-
My Chinese dinner came to 569 Thai Baht (£9); and my Italian 553 Thai Baht.
The restaurant settings/surroundings were immaculate and the service magnificent.
Sightseeing.
My body was still very much on 'British Time' and the results were rather chaotic. Thailand is about 7 hours in front of us. At night I couldn't sleep, and in the day I felt lethargic.
My first trip was to the 'Grand Palace'. www.palaces.thai.net
Fortunately I'd arranged a wake up call for 6.30am, when I was just falling asleep.
'This is your wake up call, this is your wake up call, this is…..'
Down to the entrance hall for 7.15am.
This was to be a morning trip.
Going out of the main entrance was quite a shock, so early, yet so hot!
Straight into the air-conditioned mini-bus.