Part 7 ­ Jakarta; Denpasar; ..Even more
And farewell Santika Beach Hotel.
The trip to Denpasar had been planned for some time. A bit of shopping, get a hair cut; and a suit. We went to a tailor at Steven's recommendation ­ 'Riori Tailor Bali'.
Apart from the very pleasant attitude of the shop staff I was surprised by the value for money. A couple of fittings, and the result ­a hand made/made to measure suit, made of pure lambs wool imported from Italy.
And they humoured me by designing a beautiful 'mandarin' shirt of my choice.
The price - £160 total.
Our visits were designed to ensure that there would be plenty of time in between my order, the fittings, and final 'dressing'; so as to ensure that any alterations could be done prior to departure from Bali.
Denpasar itself was fun. An unusual word to describe it I suppose but I felt comfortable there.
Steven showed me around Denpasar Museum.
A lovely old building, bordering on one of Denpasars Parks where it was pleasant to shelter from the heat of the sun under the trees.
Watching both young and old quietly passing time playing; even indulging in what appeared to be a game of chess on the edge of the green.
Walking around the market places it was inspiring to see the vivid colours of the fresh produce ­ fresh vegetables, spice, everybody tempting me to there stalls in good humour.
Denpasar itself is not really a 'touristy' place ­ more of a functional city for the people who live there.
But it was fun to feel part of it with Steven, who was a most formidable 'bargainer' ­ he'd tell me quietly to 'get out of the way' if there were any particular items I liked, so he could get a better deal. But don't get me wrong; everyone was happy with the eventual outcome!!
For my trip to Jakarta to visit an old friend ­ Pandu, that I'd been 'e-mailing' for about three years-  Steven arranged the plane tickets with 'Garuda Airlines'.
By booking in Indonesia itself I saved about £200 against the cost quoted in Britain.
The flight from Bali to Jakarta was smooth, and on time. I noticed how steep the incline was whilst the plane was 'climbing' up on take off from Bali.
Arrived in Jakarta full of anticipation; about to meet my e-pal after just knowing each other via internet.
I must admit I was expecting to meet a short, rather slight, guy; - judging by the photos I'd seen.
In
stead I was met by an extremely smart young man, with charming manner ­ taller than me (only slightly though!!)
What surprised me was his American accent. He later explained that that was due to his having learned English essentially by watching movies ­ most of which were American!
To Hotel Atlet ­ Century Park in Jakarta.
This was a beautiful Hotel. Have I used that expression a lot in my article? Sorry, but the whole feel of South East Asia is one of extremes. From splendour to poverty.
A twin bedded room, en-suite, with full facilities on the tenth floor with stunning view for about £20 a night.
Throughout my time it must be realised that all costs were for the room, not per person. So both could stay there for that fixed price.
On the Saturday night Pandu took me to 'Tanamur'.
This was a club whose interior décor reminded me of a nightime street scene. With 'street lights' and 'cabling' !!
Without being derogatory it had an element of seediness which I loved.
On two floors, a mix of gay and straight. People just dancing or talking. Just out for a good time.
Outside before close to get a taxi back to our hotel.
It was odd for me to adjust to a society that didn't 'shut' for Sunday.
So Sunday was a day of sightseeing. Down to the old harbour to see the last of the worlds large fully functioning 'sail ships'.
Back to an old 'Colonial Building' which was now one of Jakarta's Museums.
Here you could see the strong Dutch influence.
Walking upstairs into one of the 'front' rooms that would have overlooked the large courtyard it was eerie to understand that from here the Dutch Colonial Masters would give the order to execute the 'rebellious natives'.
Over to 'Café Batavia'. Another old building now a fabulous bar.
Full of character. Too nice to describe - they have a web site ­
But last time I looked it was still being designed.
Of course the inevitable shopping.
And watching the kids just passing time.
Pandu's  family were having a 'get-together' that afternoon to which I was very kindly invited.
It was so nice to see that the 'extended family' was highly prevalent. Aunties, Uncles, cousins…
But what was funnier was the younger ones hiding behind there elders at the sight of me ­ a stranger and a white man!!
Then back to the hotel to relax, have a meal. Then get ready for the night.
At about we got a taxi to take us to 'Jalan-Jalan'
The taxi approached a huge, modern building.
We entered the huge entrance hall and got a lift up to about the thirtieth floor.
The view just grabbed me!!
Again, a good crowd of young guys just wanting to have fun without harming or hurting anyone else.
I think maybe that the lack of obsession with alcohol all contributed to the good humour; unlike many of us 'Westerners' who can't seem to regard a night out as being complete without drinking more than we should.
It was a well spread out club with different areas. But essentially focused round the dance floor.
At one stage there was a floor show, but this was rather lost on me ­ being unable to speak there language.
But in all, an interesting experience.
Monday morning was an early one.
Pandu had to get to work, and I had to get to the airport.
Dropping Pandu off at his office on the way.
I was so pleased that we were able to meet up after all this time, and able to establish our good friendship.
Coming close to the end of my holiday, Steven and I had arranged to go to 'Sacred Mountain Sanctuary'
It was about a three hour drive from Kuta. By starting early it's a reasonable way of overcoming the later heat of the afternoon.
The drive into the Sacred Mountain felt like a bit of a 'car rally' with the roads being rather bumpy.
To the reception which was very relaxed.
Our bags were taken to our accommodation which was a self contained bamboo unit.
The swimming pool set amongst the plush foliage was fed by natural spring water.
To walk about was a pleasure with lily ponds, beautiful flowers growing in there natural habitat ­ and the sound of the river.
And the hills all around.
In secluded places could be found raised platforms (sheltered from the sun) - areas for 'meditation'.
I should say that this is the kind of place where you have to be with someone you really get on with !!
No public bar, no television, or juke box.
It's a total 'chill out' place.
The restaurant is an open air structure ­ with stunning views over the countryside; and the quality of the food outstanding.
But if this is your kind of thing ­ well, I'd recommend you find out for yourself !!
This was one of the very rare occasions when I drank alcohol in Bali ­ Gordon's Gin and Shweppes tonic.
Just talking for ages into the night. So totally relaxed.
It goes to show how much of our life is dictated by the need for 'instant gratification'.
On our full day there I felt quite restless just lying by the pool ­ reading. No distraction ­ total peace.
The centre does organise various activities ­ but no thanks, I eventually overcame my restlessness!
And enjoyed just doing nothing !!
Our transport was on time in the morning, and it was time to return to Santika Beach Hotel.
With a few stops at a couple of Buddhist Temples.
My final Bali experience was to see a dance in Ubud.
This was set against the back drop of an amazing piece of Balinese/Hindu architecture.
A bit of shopping first; then to 'Dirty Duck' for a meal.
And finally settling at the front of the stage for the evening's performance.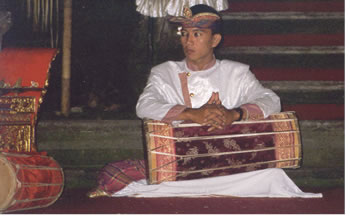 Even if you're a typical 'raver', I think this is the kind of way to end your holiday.
Leaving Santika Beach Hotel was a painful experience. It had become almost like home. I knew most of the staff, more like friends really.
I don't know what you're like but I'm one of those guys who just want to get it over with.
My car for the airport came, and off I went looking back at the sight of the hotel drive diminishing in the distance; and my good friend Steven as he was walking out.
Back to Wales without any hitch.
The quest for the Golden Buddha?
With Steven's approval I settled for a bronze (head/shoulders) Buddha image that was quite old, from Java (all legal !!)
The deciding factor was the extremely tranquil face.
The way I felt after such a transformational experience in Indonesia.